Post by Dark Niwa on Jan 6, 2007 19:13:08 GMT -5
[glow=red,2,300]* Name:Dark Niwa
* Age: ?? you think he needs to ? lol
* Nationality:American
* Hair: purple
*Eye Color : purple a bit lighter then his hair
* Height:5'8"
*Weight:125
* Appearance: always wereing the same cloths.Dark has purple hair. Along with purple eyes. his hair is a bit long and has blackwings. [/glow]
clost up of his face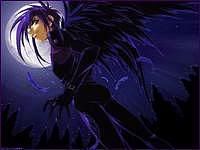 [glow=red,2,300]* wing color: black
*power: shadow, and darkness manipulation, powers controled over darkness, and shadows.
* Clothing:(as seen in picture) Dark weres a long coat anbd usaully is dressed in all black.
* Personality: Likes to steal things. But really hes a good person and trys to help people threw things the hard way even if they dont know hes trying to help and get mad at him he trys to help people.
* Background:Before he was sealed Dark was a famous theif stealing back art work that once belonged to the niwa family, Daisuke being the next in line to become dark because daisukes grandfather never had a son, till 40 years later when his daughter had a son. on his 14 brithday daisuke gained the powers of dark. learning of these things at once. Daisuke was soon forced to steal his frist item. Then satoshi appeared and tried to stop him without the power of krad. But dark slipped out of satoshis grip and using magic confused satoshi and made a run for it with the holy maiden (the item Daisuke stole) Soon after that many people tried to get in the way of daisuke and dark geting the items and over less then a year dark was finaly returned to the item he came from.
Dark was released from the statue once more, but this time without krad. unknowly Dark was set free upon the world and he set off to find daisuke. Suddnly dark noticed daisuke and ran over almost trampled him. suddelny daisuke was yelling and sceaming like a little girl . dark attacked him with a hug. Soon after they began talking and hanging around more.
* Family History:
mother-unkown- dead
father-unknown-dead
[/glow]